The 4byFour model is a maternal health systems strengthening intervention which builds on the flagship SQALE quality improvement intervention. It combines quality improvement with roll out of antenatal facility point-of-care testing for HIV, syphilis, anaemia and malaria, and community pregnancy testing and referral. The model is named 4byFour to reflect its focus on helping women to receive 4 tests by 4 months of pregnancy and 4 (ANC) visits 4 (for) all women, in line with Kenyan national guidelines.
Quality Improvement (QI)
To empower community and facility health workers to work together and collect, analyse and use their own data to improve quality of antenatal care provision and enhance pregnant women's experiences.
Integrated Point of Care testing (iPOC)
To improve the availability of testing for four common conditions (HIV, syphilis, anaemia and malaria) in ANC facilities.
Community Pregnancy Tests and Referral (CPT)
To increase early detection and referral to ANC care, particularly younger women and those in rural areas.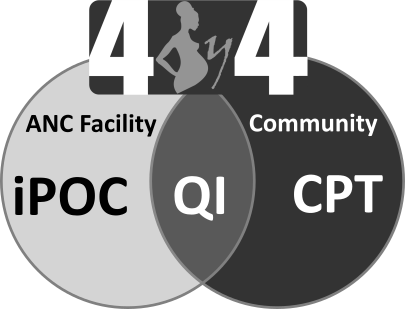 Research methods
This 18-month pilot aims to develop and assess the acceptability, feasibility and effectiveness of the 4byFour model at three facilities in Migori, Western Kenya
It is an observational study which uses process evaluation for complex interventions. The research objectives are summarised below.
To explore acceptability & feasibility
To assess effectiveness
To develop robust follow up tool
To document the process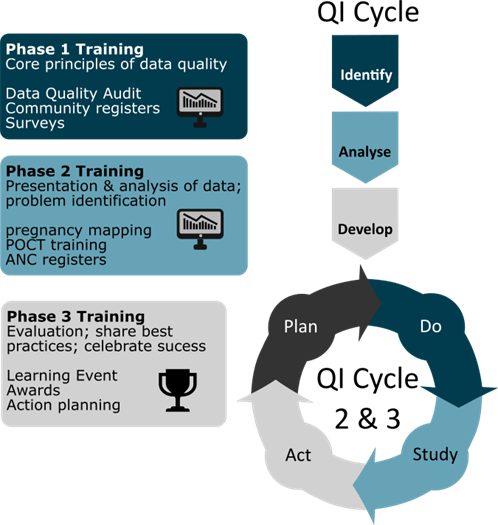 Beyond a pilot
The 4byFour model is designed to work within the existing health system to improve quality antenatal care and pregnancy outcomes. Its success will depend on QI approaches that link communities and facilities, being done within available resources and on the sustainable provision of integrated point of care testing. Our partnership brings together the key people and skills and puts us in a strong position to move beyond a pilot to a sustainable county led model.